Vids: Falling Blind – The Intent
Genre
:
Rock
Artist
:
Falling Blind
Director
:
Hollywood Underground, Owl House Productions
What We Liked
Three minutes of in-your-face psychopathic goodness!
The Low Down...
There's no better way to start your Friday than to rock out with Seattle's finest, Falling Blind
Posted October 19, 2012 by
The Critic
T
here's no better way to start your Friday than being fully engaged by the sights and sounds of West Coast rockers Falling Blind. Their latest video, "The Intent" from their EP Comets, is downright awesome. These guys so kick ass! And with that said, here's my $.02
The Good: Three words come to mind while watching this video; concept, concept, concept! The jaded female psychopath theme meshes perfectly with the intense nature of the music. Directors Hollywood Underground put on a breathtaking three minute experience that encapsulates all of the elements of a multimillion dollar presentation for only a fraction of the cost. And the music; the music is magnificent, boisterous and energetic; everything that a great Rock track should be. Band members Clayton Marquiss, Mike Davidson, Si Katara, and Joe Koster keep you fully engaged with this highly volatile burst of commanding Rock greatness.
The Bad: There is no bad, unless you are Jonesing for a prominent hook. But the song doesn't need one; it's just that damn good!
Overall: The collaboration of Falling Blind, producers Hollywood Underground and film crew Owl House Productions has spawned an intriguing video that could garner "Video of the Year" props here at Amped Sounds and at other established publications. The music, cinematography, editing and theme come together to create a marvelous video that is worthy of all of the accolades that it is and will receive. This one definitely gets my Stamp of Approval and I'm confident that it will receive yours too. And that my friend is my $.02. What's yours?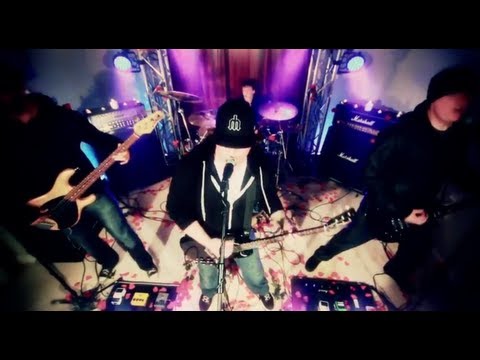 Support Independent Artists. Show your support by purchasing their albums, viewing their videos and going to their shows. In return, they will continue to make exceptional music for you to enjoy!
Log in and leave us your thoughts.